Management Policy
Top Message
Message
Aiming to address the climate change issue while also achieving our mission of stably supplying energy, we will unceasingly tackle innovation and aim for further improvement of corporate value, to remain a company that is always needed in an ever-changing global society.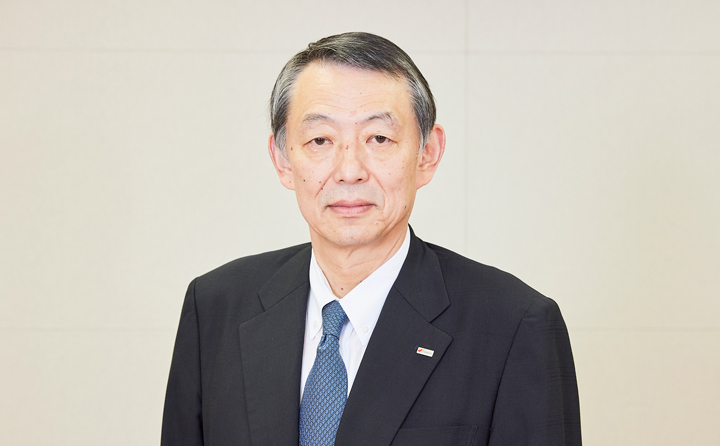 The J-POWER Group's Corporate Philosophy and Vision for Ourselves
Based on our Corporate Philosophy—"We will meet people's needs for energy without fail, and play our part for the sustainable development of Japan and the rest of the world"—the J-POWER Group has contributed to the stable supply of electric power in response to the demands of society, at every step for over half a century. Through our technological capabilities, we devise solutions to the energy needs of society and provide the energy required. This stance will remain unchanged into the future. Looking ahead, we will be called upon to not only meet the challenge of global climate change but also to supply energy more competitively and efficiently under the deregulation of electric power. Responding to climate change—that is, taking on the challenge of achieving carbon neutrality by 2050—means balancing a sustainable society with the sustainable growth of the Company. By accepting the demands of society and constantly undertaking the improvement and sophistication of technologies, and by providing society with added value through the development of business that looks a step ahead, we want to remain a company that is always needed by global society.
Looking Back on Fiscal 2020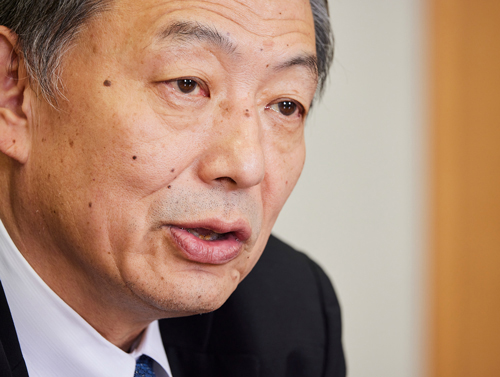 Kuzumaki No. 2 Wind Farm (started operation: December 2020)
During fiscal 2020, our in-progress projects were completed almost according to plan. These include the start of commercial operation at Takehara Thermal Power Plant New Unit No. 1, Kashima Power (Kashima Thermal Power Plant Unit No. 2), and Kuzumaki No. 2 Wind Farm. The year was one in which profit-generating assets have accumulated and our sales base has deepened. However, we have been affected by declining electricity demand amid the COVID-19 pandemic, the slump in market prices on the Japan Electric Power Exchange over the year, and the rise in wholesale electricity market prices in the winter. As a result, we were unable to fully demonstrate our capabilities, and full-year results fell short of initial expectations. Due to intensifying competition associated with the progress of electric power deregulation, the wholesale electricity market has become more active and transaction liquidity has increased. At the same time, fluctuations in the wholesale electricity market prices are becoming larger. In response to events that occurred in fiscal 2020, we will diversify our sales methods and otherwise strengthen our sales capabilities, and will perform appropriate risk management to maximize and stabilize profits.
Looking at movements in the world, fiscal 2020 was also a year of major actions in response to climate change. In July 2020, Japan's Minister of Economy, Trade and Industry announced the phase-out of inefficient coal-fired power plants. In the fall of 2020, the government declared its intent to achieve carbon neutrality by 2050; in May 2021, this target was made clear with the revision of the Act on Promotion of Global Warming Countermeasures. The government has also declared a goal of reducing Japan's greenhouse gas emissions by 46% (vs. fiscal 2013) by fiscal 2030, and the reconsideration of the energy mix in 2030 is proceeding. Amid such policy actions, in February 2021 we announced the J-POWER "BLUE MISSION 2050," an initiative that declares our efforts to achieve a carbon-neutral, hydrogen-based society by 2050 and sets a CO2 emissions reduction target of 40%* for the transition point of 2030.
To plan further initiatives for climate change and other ESG material issues, we made the Executive Vice President responsible for ESG oversight, effective April 1, 2021, and reformed our organizations involved in ESG. And we did this because we have ESG as the starting point for all of our corporate activities. To improve our corporate value we have always engaged in environmentally-conscious business activities, valued our points of contact with society, and continued initiatives with an awareness of governance. To clarify our policy on ESG initiatives and to undertake these as a unified Group, we newly established the ESG & Corporate Research Office as a specialized department in the Corporate Planning & Administration Department that deploys initiatives spanning different fields. In this way, the J-POWER Group will continue to actively undertake ESG.
Compared to the 3-year average of actual emissions for fiscal 2017–fiscal 2019 of the J-POWER Group' s domestic power generation business
Changes in the Environment Surrounding Energy, and the Efforts of the J-POWER Group
As I have noted, there is a rapid shift to carbon neutrality in response to the climate change issue recently. In the field of domestic energy, too, in addition to the long-term stable supply of electric power, we face demands to promptly show efforts that are consistent with carbon neutrality.
As an energy company, achieving the stable and sufficient supply of energy in Japan and around the world while also addressing climate change is both our major challenge and greatest mission. In addition to large-scale hydroelectric power plants that have supported Japan's postwar economic development, overseas coal-fired power plants that we introduced in the wake of the oil crisis, and cross-regional interconnection lines, we hold strengths in the form of comprehensive power born from harmonizing and creating synergies from elements that include the expansion of our business into fields such as renewable energy and international businesses that we actively pursued even before privatization, the depth of our human resources that engage in these businesses, and our accumulation of business development, operations, and technical knowhow. By demonstrating this comprehensive power and by improving, elevating, and combining the technologies we have nurtured, we will tackle this issue.
J-POWER "BLUE MISSION 2050"
In February 2021, we released the J-POWER "BLUE MISSION 2050" that indicates our direction and path for efforts aimed at achieving a carbon-neutral society by 2050. Our goal is to simultaneously achieve stable supply of energy and reduction of CO2 emissions through the power of technology, with carbon neutrality by 2050 and a 40% reduction in CO2 emissions by 2030 as our targets.
To achieve our CO2 reduction target, we will curb operations at aging coal-fired power plants by 2030. Looking further ahead to 2050, we have set out three pillars to support our goals: "expanding CO2-free power sources," "pushing for CO2-free hydrogen energy and zero-emission power sources," and "power networks."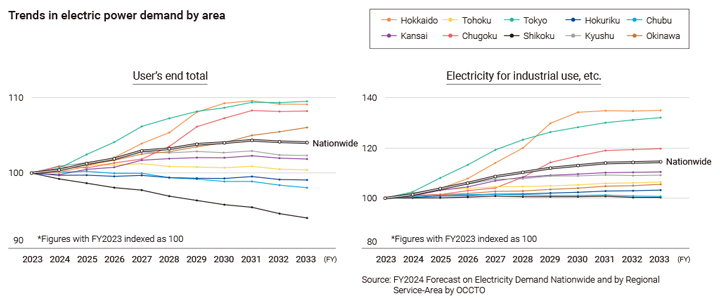 Expansion of CO2-free Power Sources
Boasting an approximately 70-year history of renewable energy development and Japan's second highest capacity for both hydroelectric and wind power generation today, the Group is one of the nation's leading renewable energy business operators. Utilizing our knowledge and technology, we will further accelerate the development of onshore and offshore wind power, small-scale hydroelectric power, geothermal power, solar power, and other renewable energy sources.
The Ohma Nuclear Power Plant, currently under construction, will be a CO2-free power source capable of stably generating large amounts of electricity. Under the Ohma Nuclear Power Plant Project, the plant will be able to use MOX fuel, recycled from the spent fuel emitted by nuclear power plants around Japan. This will further contribute to the reduction of CO2 through the stable operation of nuclear power plants in Japan. As a component of our development of CO2-free power sources, we will forge ahead with safety as our top priority, all while striving for more attentive information provision and two-way communication to gain the understanding and trust of people in the community.
CO2-free Hydrogen Energy and the Shift to Zero-emission Power Sources
We are working to make hydrogen CO2-free by gasifying coal to produce hydrogen and by separating and capturing the generated CO2 for reuse or underground storage using carbon dioxide capture, utilization, and storage (CCUS) technology. For nearly 20 years, the Group has been developing technologies for producing hydrogen from coal and technologies for CO2 separation and capture. These technologies are now at the stage just prior to commercialization.
We are currently conducting demonstration tests at the Osaki CoolGen Project in Japan and at the Australian Brown Coal Hydrogen Pilot Test Project overseas. At the Osaki CoolGen Project, we have already demonstrated coal gasification and CO2 separation and capture technologies, and are now preparing for demonstration tests of high-efficiency CO2-free hydrogen power generation in combination with fuel cells. At the Australian Brown Coal Hydrogen Pilot Test Project, we succeeded in producing hydrogen of 99.999% purity in February 2021.
By gasifying biomass fuel (made from wood that absorbed atmospheric CO2 in its growth) in addition to coal and by making use of CCUS, we can not only avoid the release of CO2 but can actually achieve negative emissions that reduce atmospheric CO2. Negative emissions obtained using solid biomassfuel are a benefit made possible by the fact that coal, unlike natural gas, is a solid.
While it is thought that electrification will progress in various industries with the aim of carbon neutrality, it is also expected that hydrogen will be needed as a fuel in industries not amenable to electrification, such as steelmaking and transport. J-POWER will pursue not only CO2-free hydrogen power generation using coal but also the potential for expanding our business domains by producing and supplying CO2-free hydrogen. Doing so will allow us to contribute to carbon neutrality in other industries.
Power Networks
With the growth of wind power, solar power, and other renewable energy sources that experience sharp fluctuation in output according to weather conditions, the ability to accommodate output fluctuations and stabilize power networks will become increasingly important. The Group possesses hydroelectric power generation facilities with outstanding output control functionality, particularly pumped storage hydroelectric power plants capable of absorbing surplus electric power. Hydrogen power generation from coal gasification also excels in output control functionality. By undertaking distributed energy services that utilize end-users' private power generation, air-conditioning equipment, and other resources in addition to our power sources, we will contribute to the stabilization of power networks and will support the expansion of renewable energy in Japan.
Selection of sites for renewable energy is dependent on regional weather conditions. Favorable wind conditions make Hokkaido and Tohoku, Northern Japan, suited to wind power, while sunny western Japan is suited to solar power. However, Japan's existing power grid faces limits on the amount of this electricity that can be delivered to high-demand areas. Increasing renewable energy will require the enhancement of power networks. The J-POWER Group owns 2,400 km of power transmission lines nationwide, frequency converter stations that adapt power for exchange between eastern Japan's 50 Hz grid and western Japan's 60 Hz grid, and submarine power transmission cables connecting regions. Utilizing our accumulated technology and experience, we will contribute to the power network enhancement that is needed to expand renewable energy in Japan.*
Power network enhancement is an initiative of J-POWER Transmission
Medium-Term Management Plan
In the Medium-Term Management Plan that we released in April 2021, we indicate four actions to be prioritized as first steps in achieving the directions and the CO2 reduction targets expressed in J-POWER "BLUE MISSION 2050." (See information about these actions in the Medium-Term Management Plan in "Medium-Term Management Plan")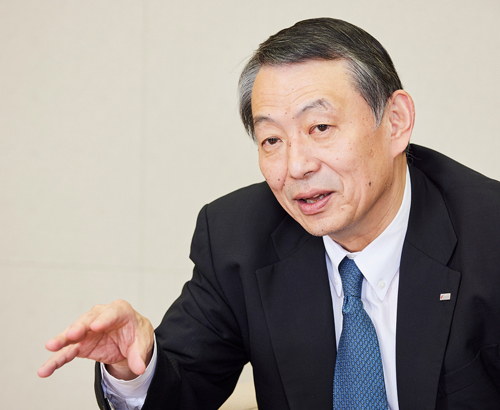 GENESIS Matsushima Plan
I'd like to talk about some of the actions indicated in our Medium-Term Management Plan.
In April 2021, we began preparations for an environmental impact assessment of our GENESIS Matsushima Plan. This plan is an upcycling project to add new gasification equipment and gas turbines to the existing power plant at the Matsushima site in Nagasaki Prefecture, a site that began operation 40 years ago. The GENESIS Matsushima Plan marks the first commercialization of results demonstrated through the Osaki CoolGen Project, and will be a first step toward our future goal of achieving CO2-free hydrogen power generation and the production and supply of CO2-free hydrogen in combination with CCUS.
In addition to this, we will work to further reduce CO2 through the mixed combustion of biomass and ammonia.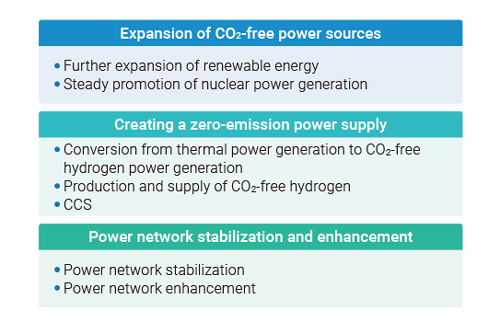 Management Goals and Policy on Shareholder Returns
In our Medium-Term Management Plan, we set consolidated ordinary income of 90 billion yen or more and a consolidated equity ratio of 30% or more as new targets for fiscal 2023. We will achieve these targets by undertaking greater efficiency in repairs and other cost reduction measures while making efforts that include the leveling of regular inspection costs, early recovery of unplanned shutdowns at thermal power plants, stable operation, and the commencement of commercial operation at projects under development overseas such as the Triton Knoll Offshore Wind Power Project in the United Kingdom and the Jackson Power Plant in the United States.
In shareholder returns, J-POWER has maintained stable dividends since our listing with a dividend increase at the end of fiscal 2017. We will strive to enhance stable, ongoing returns to shareholders, taking into account level of profit, earnings forecasts, and our financial condition (and excluding factors causing short-term profit fluctuations), with the aim of a consolidated payout ratio of around 30%.


Toshifumi Watanabe
Representative Director President and Chief Executive Officer
August 2021