Environmental Management in J-POWER Group
J-POWER Group believes that energy production and the environment can coexist in harmony. In light of this corporate philosophy, our environmental management aims to promote greater environmental responsibility while enhancing the economic value of our operations in order to further contribute to the development of a sustainable society.
Environmental Management Vision
The J-POWER Group Environmental Management Vision is made up of a Basic Policy and an Environmental Action Program that defines specific tasks and goals and the means to achieve them. The Environmental Action Program brings together Corporate Targets, which define midterm targets for environmental initiatives, and Environmental Action Guidelines, which orient the initiatives to be implemented each fiscal year. J-POWER Group is working as a whole to realize environmental management in accordance with these targets and guidelines.
Efforts Relating to Global Environmental Issues
Global warming is one of the most serious long-term issues to be faced by humanity this century. As the international community seeks a new environmental framework, Japan is examining the introduction of a variety of systems and measures towards the realization of a low-carbon society.Focusing on the concept of the coexistence of energy and the environment, J-POWER Group regards measures to combat global warming as a top management priority and is pursuing these initiatives vigorously.
J-POWER Group's Efforts Relating to Global Environmental Issues -Basic Policy-
Directing our most intensive efforts towards the provision of a stable energy supply, we will also steadily advance initiatives towards the realization of low-carbon technologies both domestically and internationally, and will contribute to the reduction of CO2 emissions on a global scale. To that end, we will work from mid- and long-term perspectives with technology as our central focus to realize a stable supply of energy and reduce CO2 emissions domestically and internationally through measures including reducing CO2 emissions from our coal-fired power generation, conducting research and development of next-generation low-carbon technologies, and expanding CO2-free power generation facilities. Our ultimate aim will be the achievement of zero emissions by means of measures including CO2 capture and storage.
1.Reducing CO2 emissions from coal-fired power generation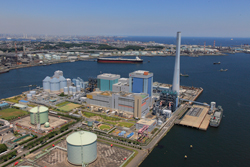 We will maintain high-efficiency operation, and will implement measures including expanding the application of biomass mixed combustion, replacing aging thermal power stations, and deploying high-efficiency coal-fired power generation internationally.
2.Conducting research and development of next-generation low-carbon technologies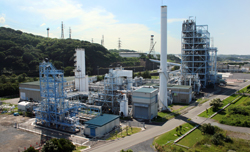 We will conduct research and development in areas including further high-efficiency power generation technologies, CO2 capture and storage technologies, and technologies for ocean-based wind power generation.
3.Expanding CO2-free power generation facilities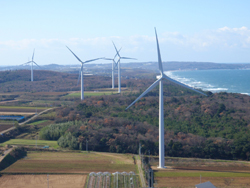 While sparing no efforts in continuing to develop nuclear power stations, with safety as our top priority and with the understanding of the local communities in the areas in which the facilities are located, we will also work to expand our use of hydroelectric, wind power, and geothermal generation.
Efforts Relating to Local Environmental Issues
J-POWER Group recognizes that protecting the local environment, including maintaining biodiversity, and ensuring the safety and preserving the living environment of local residents forms the foundation for harmony with local communities, and therefore strives to function in harmony with the local environment, for example by taking measures to minimize the environmental impact of our operations.
Ensuring Transparency and Reliability
J-POWER Group is working to improve environmental management and ensure legal compliance in all its business activities. By disclosing a wide range of environmental information, we are striving to earn society's trust.
For more details regarding these initiatives, please refer to the J-POWER Group Sustainability report 2016.The report are available on this website.
J-POWER Group Sustainability Report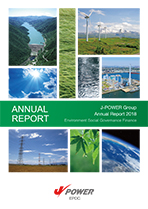 J-POWER Group Sustainability Report which was issued every year till 2016 has been integrated into Annual Report since 2017. For our sustainability information, please refer to Annual Report 2018.