Company Information
Message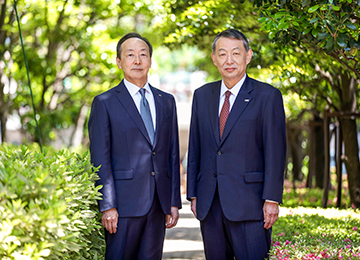 At the Electric Power Development Co., Ltd. (J-POWER) we have been supplying low-cost, stable electricity for about 70 years while constructing and operating power transmission lines nationwide that contribute to Japan's economic growth and improve people's living standards.
We have been providing engineering consultancy services worldwide for over half a century. These consist of consulting operations on the development of electric power as well as on power transmission and transforming. Utilizing this knowledge, we are also proactively engaged in the field of power generation overseas.
Currently changes are occurring in the field of energy such as an increase in our activities relating to the achievement of the decarburization of a society based on The Paris Agreement on greenhouse gas reduction and the deregulation of the power supply business sector and advances in digital technology. In view of these changes based on the experience and technological capabilities we have accumulated, at J-POWER we are aiming to achieve carbon decarburization. We utilize our inventiveness by employing the latest technology and taking up the challenge of new fields as we grow globally.
We will continue to exert our utmost efforts to fulfill our mission which is "We will meet people's needs for energy without fail, and play our part for the sustainable development of Japan and the rest of the world."
June 2020
Hitoshi Murayama Representative Director and Chairman

Toshifumi Watanabe Representative Direcotor/President and Chief Executive Officer