Company Information
Message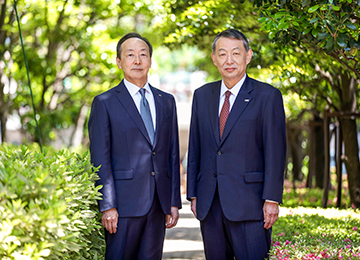 We have been supplying low-cost, stable electricity for about 70 years while constructing and operating power transmission lines nationwide that contribute to Japan's economic growth and improve people's living standards.
We have provided engineering consultancy services worldwide for over half a century. These consist of consulting operations on the development of electric power as well as on power transmission and transforming. Utilizing this knowledge, we are also proactively engaged in the field of power generation overseas. In this way, along with power generation operations in Japan, we have achieved growth in another sector equal in importance to this.
Currently, in line with the increase in the global population, there is also a massive demand for electric power. However, an urgent objective is to respond to the changes in the global climate. Also, we are now in an age of changes in the business environment as it relates to demand for energy such as advanced digital technology.
In view of these changes, we will continue contributing to ensure the economic growth of Japan and the world, and we seek to achieve the SDGs (Sustainable Development Goals) of the UN. Also, by supplying energy globally in many different forms, we are seeking to realize CO2 free electric power supplies. To achieve this, we are drawing on our experience, technological capabilities and our constant technological development work.
We will continue to exert our utmost efforts to fulfill our mission which is "We will meet people's needs for energy without fail, and play our part for the sustainable development of Japan and the rest of the world."
June 2020
Hitoshi Murayama Representative Director and Chairman

Toshifumi Watanabe Representative Director/President and Chief Executive Officer