J-POWER's vision for 2050
Based on its mission of meeting people's needs for energy without fail and playing its part in the sustainable development of Japan and the rest of the world, J-POWER is engaged in the hydroelectric, thermal, wind, and geothermal power generation business and the power transmission and transformation business.
To achieve this mission, J-POWER announced J-POWER Blue Mission 2050 in February 2021, with the goal of meeting the challenge of making its power generation business carbon-neutral by 2050, and as a milestone has set the intermediate goal of reducing CO2 emissions by 40% by 2030.
News Release / Topics
Road Map to 2050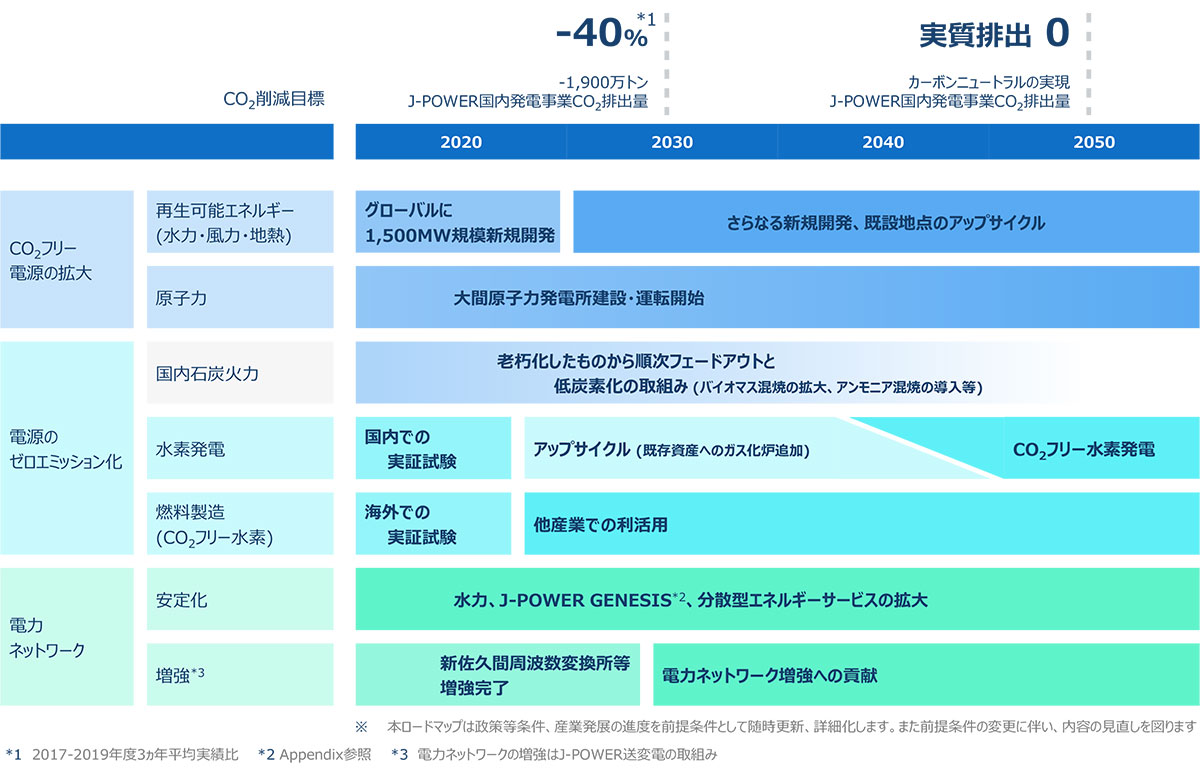 Action plan toward 2030
(1)Start of transition from coal to CO2-free hydrogen power generation
We will gradually phase out aging domestic coal-fired power plants, while adding gasification capabilities to existing facilities to upcycle them as high-efficiency power generation systems using hydrogen, thereby reducing CO2 emissions by 40% from the current level. By promoting the use of hydrogen, we will contribute to the realization of a new energy society in Japan.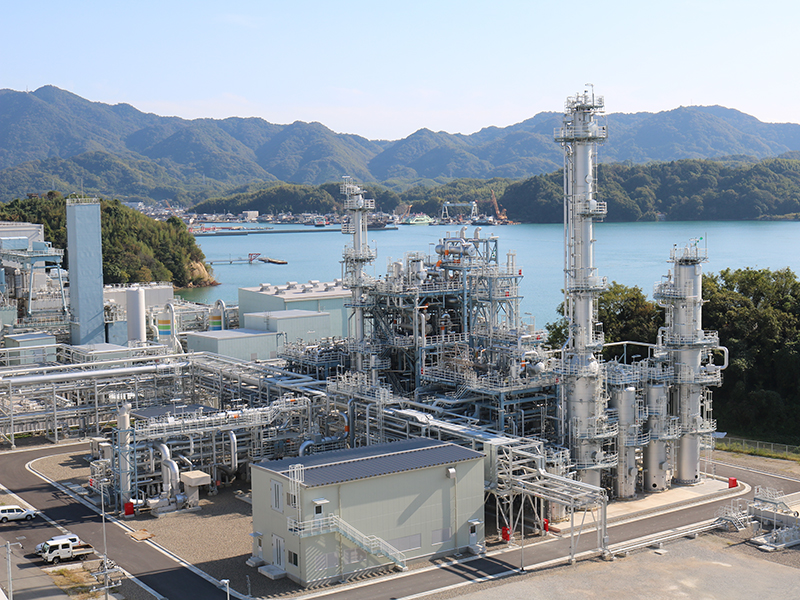 (2)Accelerating the development of renewable energy
We will promote new development and value enhancement for power generation, including offshore wind, by leveraging the knowledge we have gained through many years of development, maintenance and operation of renewable energies (hydroelectric power, onshore wind and geothermal). We will promote new development of about 1 GW compared to FY2017 by FY2025 (globally expanding from 9.5 GW to 10.5 GW).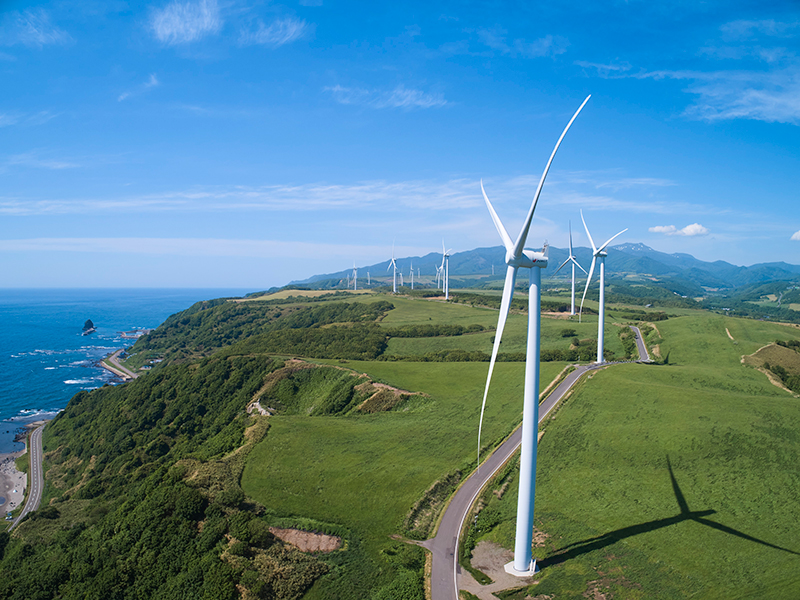 (3)Nuclear power as CO2-free power generation
We will promote the Ohma Nuclear Power Plant Project with ensuring safety as the highest priority, to provide us with another option for CO2-free power generation. Since the Ohma Nuclear Power Plant Project can use MOX fuel, which is recycled from spent fuel produced by nuclear power plants throughout Japan, we can contribute to CO2 reduction through stable operation of nuclear power plants in Japan.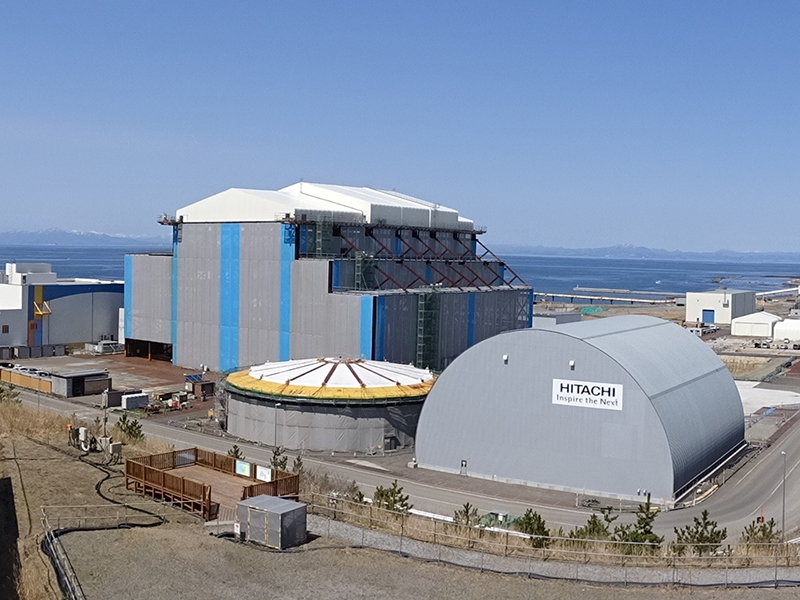 (4)Enhancement of power network as core infrastructure
In order to strengthen the backbone infrastructure that supports Japan's electric power network, we plan to complete the construction of the New Sakuma Frequency Conversion Station by fiscal 2027. In addition, we aim to contribute to projects to reinforce inter-regional connection lines and DC transmission lines, which will be necessary for the mass introduction of renewable energy in the future.
*The power network enhancement is an initiative of J-POWER Transmission Network Co., Ltd.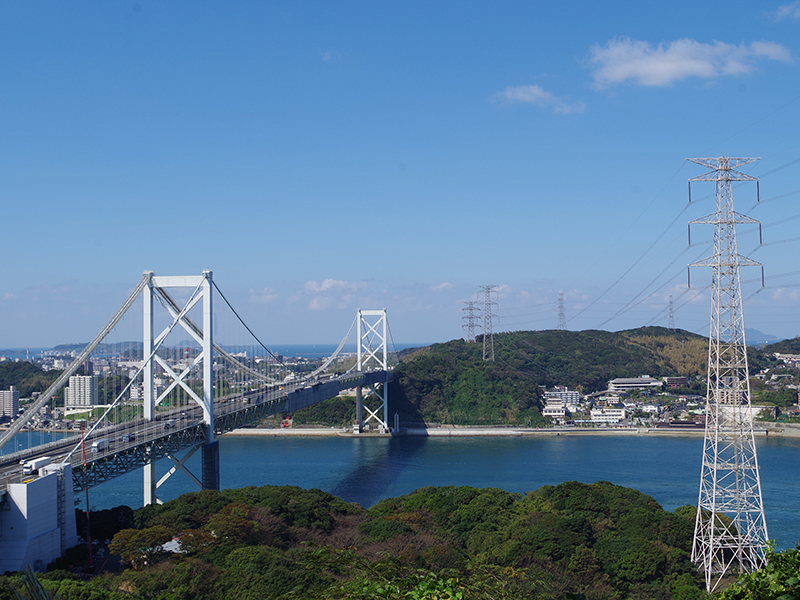 Priority
J-POWER is making an action plan based on the priorities of "Acceleration" and "Upcycle".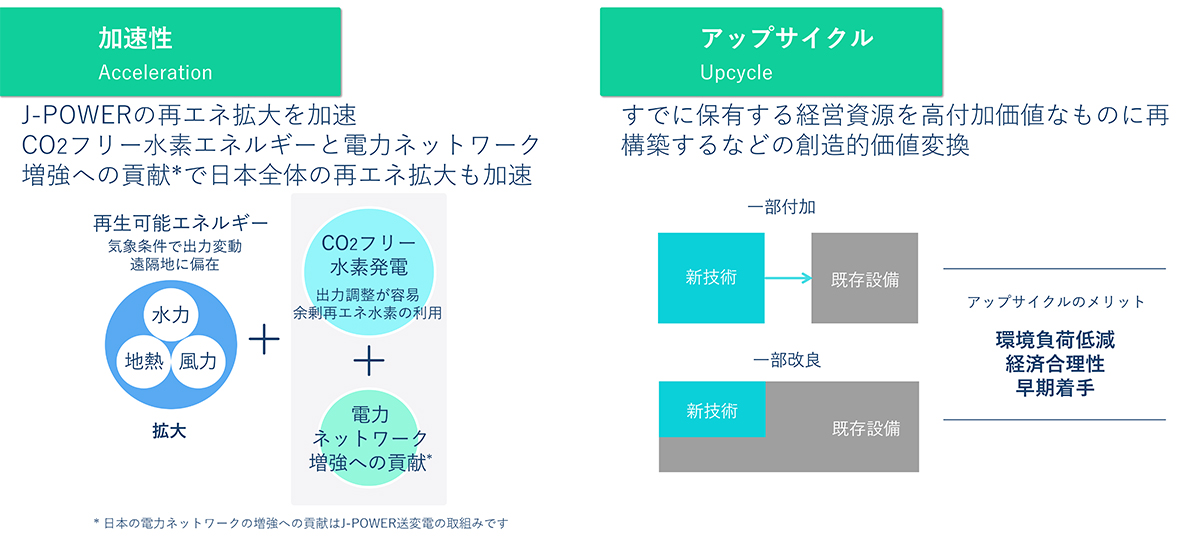 Hydrogen Supply Chain in 2050
J-POWER has begun the transition from coal-to-electricity conversion to CO2-free hydrogen production using coal and hydrogen power generation. At the same time, J-POWER will pursue the possibility of expanding its business domain through the supply hydrogen for various uses.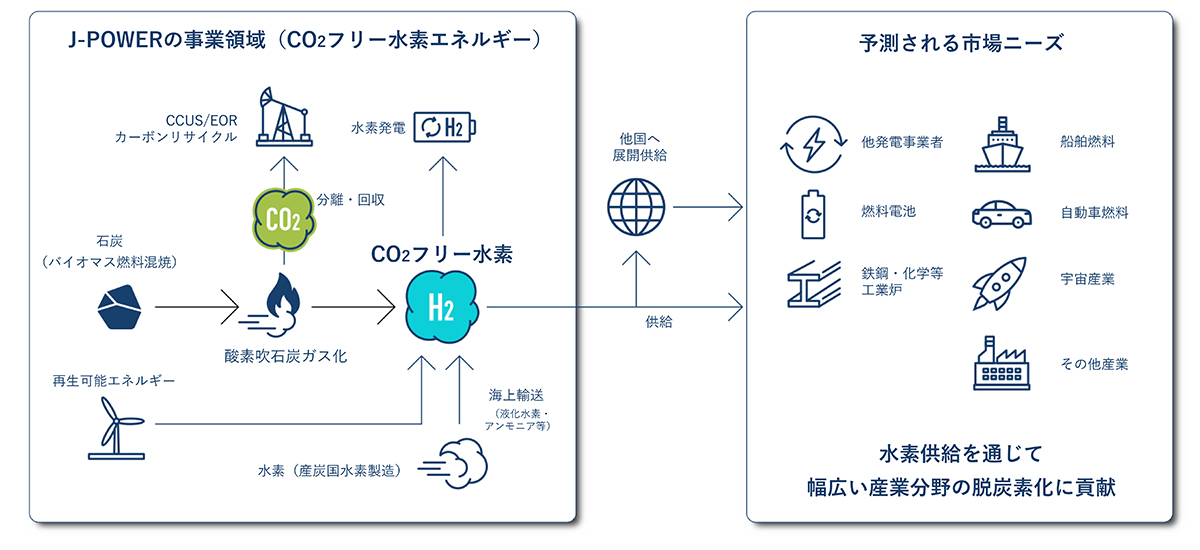 Transition to CO2-Free Hydrogen Energy
J-POWER worked on demonstration tests for oxygen-blown coal gasification and CO2 separation and capture. Those technologies are on the verge of commercialization.
By upcycling existing power plants by applying new technology, and adding gasification and CO2 separation and capture facilities to existing facilities, J-POWER will achieve CO2-free hydrogen power generation in an economically rational and quick manner.