Realizing a Carbon-neutral and Hydrogen Society
We will help realize a carbon-neutral and hydrogen society.
For the future of our beautiful, blue planet,
and for the more than seven billion people who live on it.
The J-POWER Group formulated
J-POWER "BLUE MISSION 2050"
based on the need to expedite its
initiatives for climate change.
We will devote our full efforts to
expanding CO2-free energy sources,
starting with renewable energy,
and to developing CO2-free hydrogen.
Road to 2050
We aim to reduce CO2 emissions by 46% in 2030,
and achieve net zero CO2 emissions in our power generation business in 2050.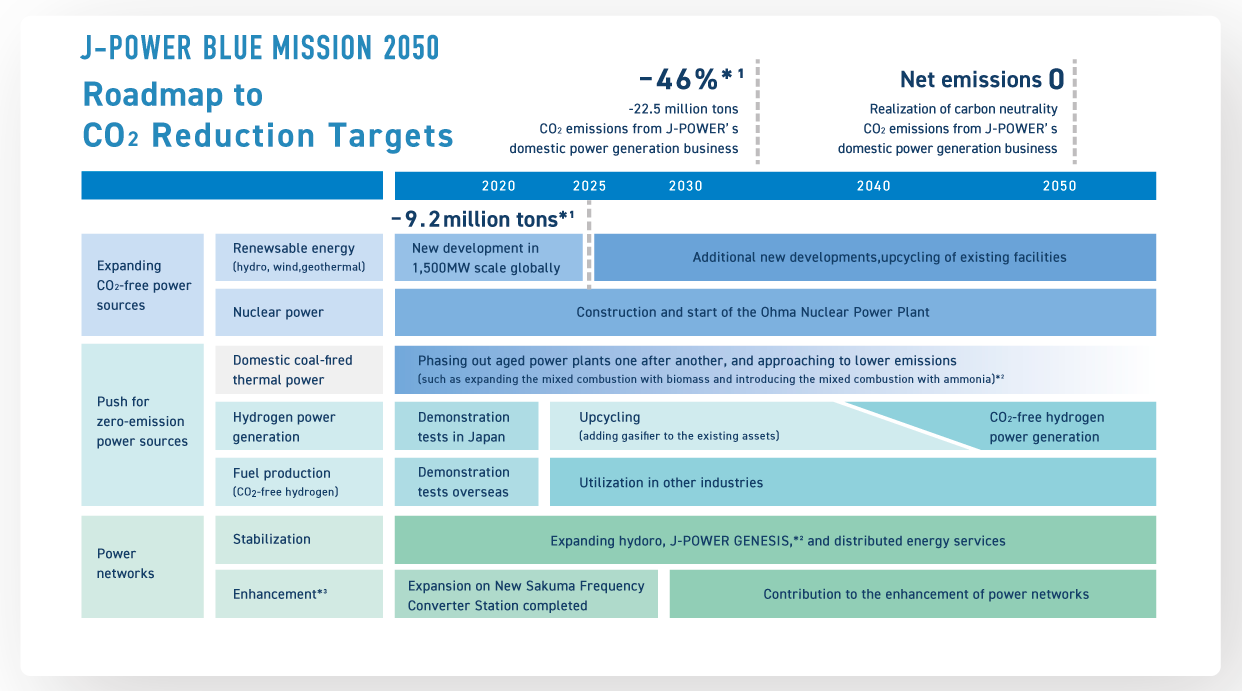 Notes:
This roadmap will be updated and refined as needed, depending on government policies and the progress of industrial development. In addition, we will review the contents as relevant factors change.
1: Compared to the actual emissions in FY2013.
2: Including the use of hydrogen extracted from ammonia for power generation.
3: The power network enhancement is an initiative of J-POWER Transmission Network.
Concept
BLUE MISSION 2050:
Three Pillars
We will work steadily to achieve carbon neutrality and a hydrogen society,
with acceleration and upcycling as our priorities.
Acceleration
We will accelerate the expansion of renewable energy in Japan and internationally. Domestically, we will do so by working to enhance both power networks and energy sources with output adjustment capability, such as those for pumped storage hydroelectricity and hydrogen power generation.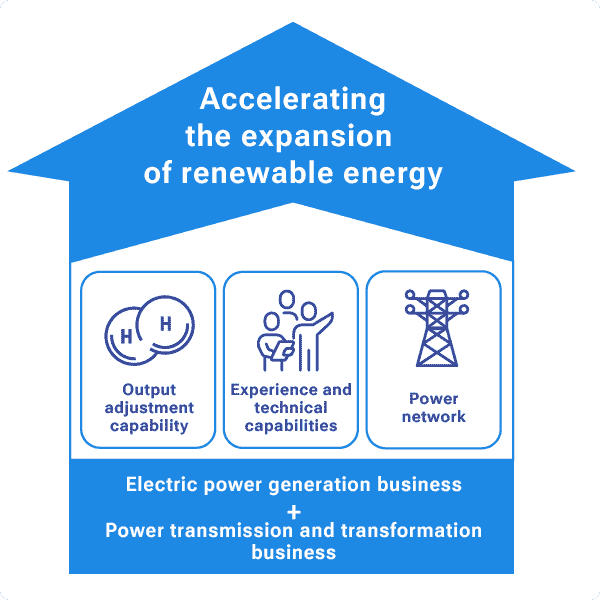 Upcycling
Through upcycling, which enhances value by adding the latest technologies to existing power generation facilities, we will reduce CO2 emissions quickly and economically.