Management Policy
Management Plan
J-POWER Medium-Term Management Plan FY2021-FY2023
As a step in the challenge to realize carbon neutrality based on BLUE MISSION 2050, which J-POWER announced in February 2021, the Company has formulated a new Medium-Term Management Plan for the three years from FY2021 to FY2023.
The Goal of the Medium-Term Management Plan
J-POWER aims to increase its corporate value through challenging the transition toward realizing carbon neutrality in 2050.
These initiatives in FY2021-FY2023 have been summarized in the framework of the Medium-Term Management Plan.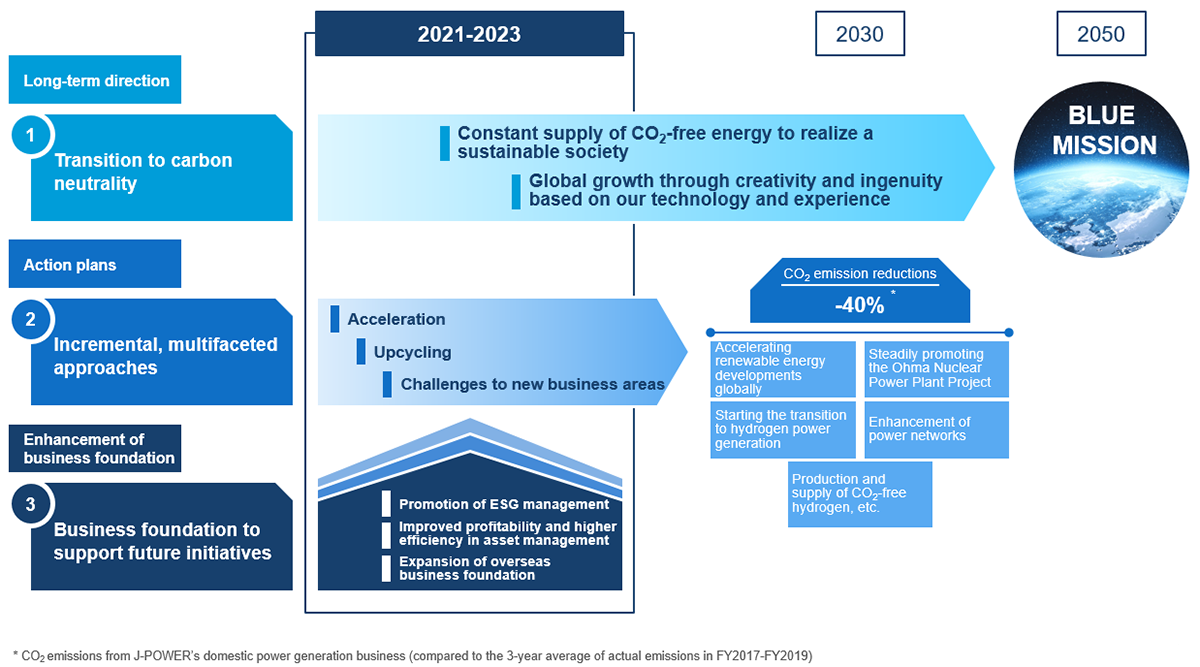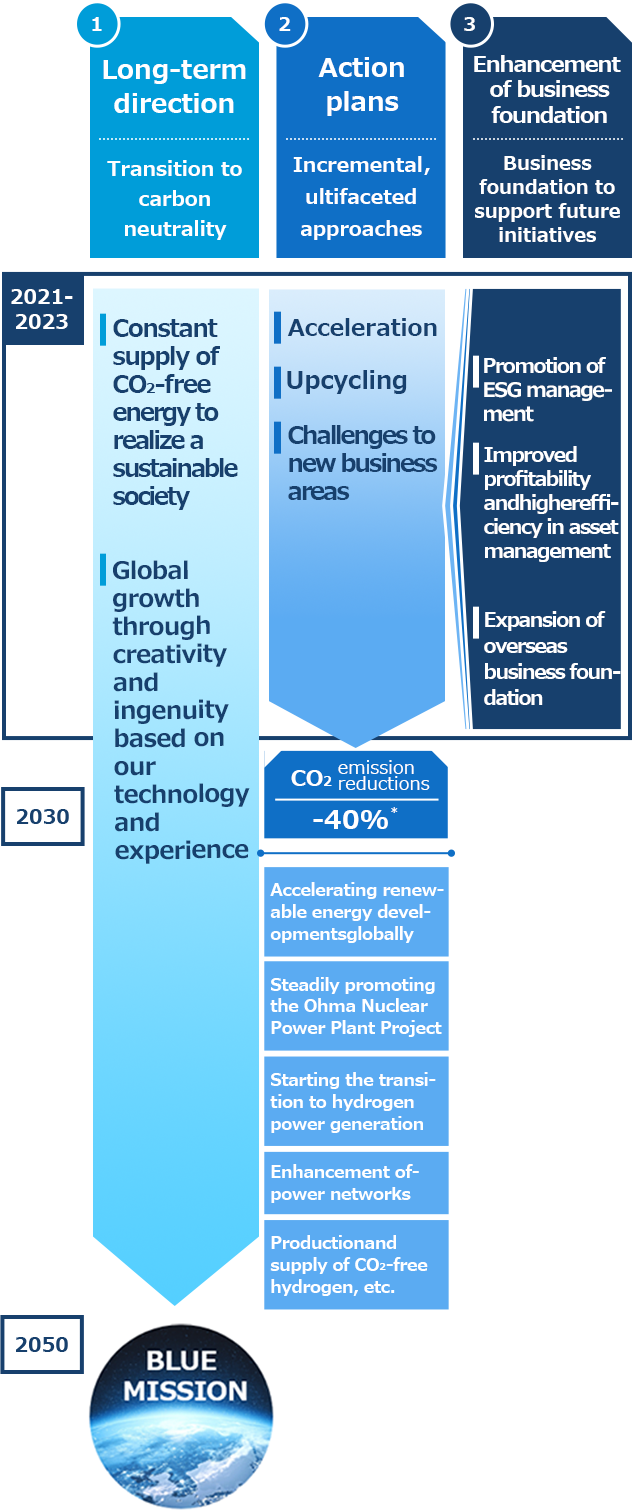 Actions FY2021-FY2023
The transition to carbon neutrality would require the pursuit of diverse possibilities toward the future of 2050.
J-POWER will take multifaceted approaches by accelerating the ongoing initiatives, upcycling, and challenging new business areas.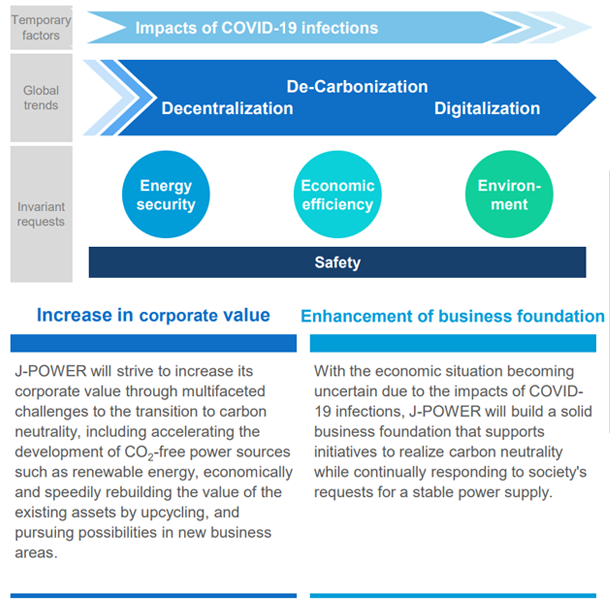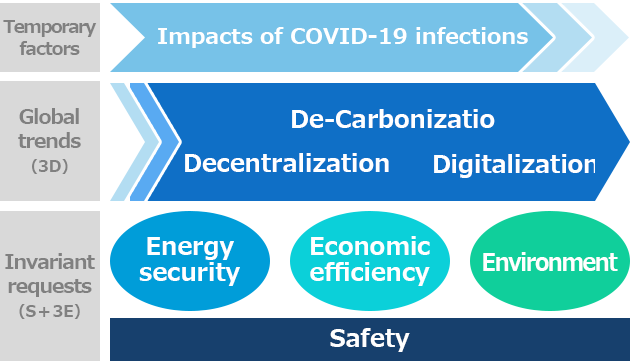 Increase in corporatevalue
J-POWER will strive to increase its corporate value through multifaceted challenges to the transition to carbon neutrality, including accelerating the development of CO2-free power sources such as renewable energy, economically and speedily rebuilding the value of the existing assets by upcycling, and pursuing possibilities in new business areas
Enhancement of business foundation
With the economic situation becoming uncertain due to the impacts of COVID-19infections, J-POWER will build a solid business foundation that supports initiatives to realize carbon neutrality while continually responding to society's requests for a stable power supply.
▼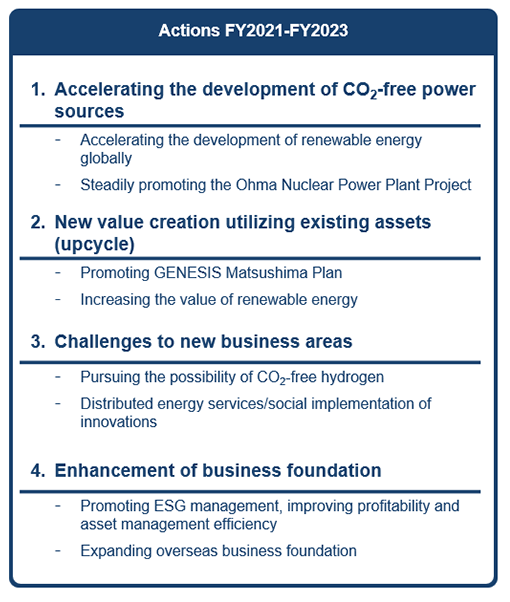 Management Goals and Shareholder Returns
As financial targets for fiscal 2023, J-POWER has set new targets of consolidated ordinary income of 90 billion yen or more and a consolidated capital adequacy ratio of 30% or more.
In addition, as a renewable energy development target, we have set a target of 1,500 MW or more * 1 by fiscal 2025 compared to fiscal 2017.
As a CO2 emission reduction target, we will reduce by 40% or more by 2030, as shown in J-POWER "BLUE MISSION 2050". *2
We will strengthen its profit and financial bases to support transition efforts toward the realization of carbon neutrality.
We also will accelerate the development of renewable energy and reduce CO2 emissions in incremental steps.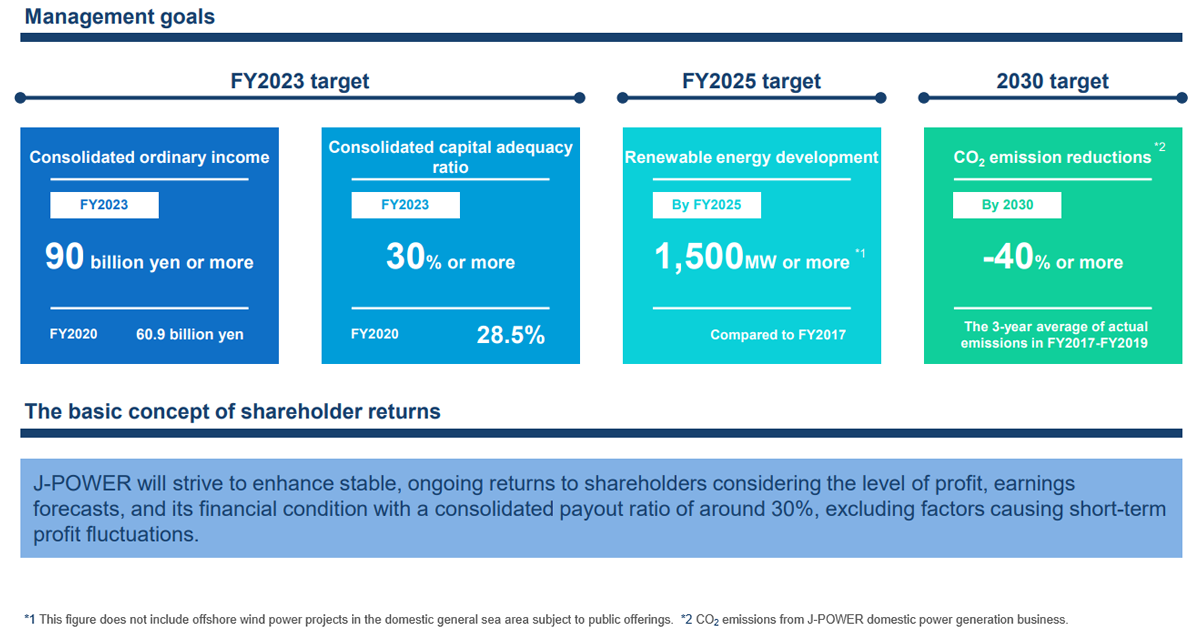 Management goals
FY2023 target
FY2025 target
FY2030 target
The basic concept of shareholder returns
J-POWER will strive to enhance stable, ongoing returns to shareholders considering the level of profit, earnings forecasts, and itsfinancial condition with a consolidated payout ratio of around 30%, excluding factors causing short-term profit fluctuations.
*1 This figure does not include offshore wind power projects in the domestic general sea area subject to public offerings.
*2 CO2emissions from J-POWER domestic power generation business.
J-POWER Group Medium-Term Management Plan