Management Policy
Top Message
Message
Actively advancing initiatives toward the achievement of our Medium-Term Management Plan, we will ensure the further growth of the J-POWER Group.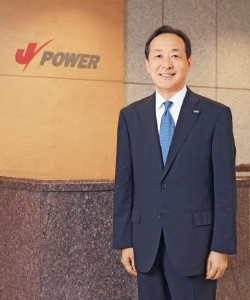 Looking at Japan's electric power industry, in July 2015 the Japanese government published its Long-term Energy Supply and Demand Outlook and presented its energy mix targets for 2030. The government is also steadily advancing electricity system reform, including the full-scale liberalization of retail business and the abolishment of wholesale regulations from April 2016 as well as the unbundling of power generation and transmission scheduled for 2020. To address the wide range of issues arising as a result of this liberalization, the government has indicated that it will launch new markets, such as a baseload power market, capacity market, non-fossil value market, and supplydemand balancing market, and debate over the design of these markets continues. In addition, the Paris Agreement, an international agreement on mitigating climate change, has come into effect, and within Japan calls for the creation of a low-carbon society that is sustainable both economically and environmentally are increasing. Reflecting these and other factors, the business environment surrounding the J-POWER Group is undergoing significant change.
In light of such changes in its business environment and its own strengths, in July 2015, the J-POWER Group established a MediumTerm Management Plan to address the challenge of achieving further growth over the next decade. As for the direction of the plan, there are three concepts: "Realize growth in Japan by winning out over the competition in a liberalized market," "Enhance overseas business expansion," and "Further low-carbon technologies enabling greater business growth globally." We are actively promoting initiatives to give these concepts tangible form.
Specifically, we are advancing the construction of three wind power projects—Setana-Ohsato, Kuzumaki No. 2, and Nikaho No. 2—as well as the Wasabizawa Geothermal Power Plant. All of these represent renewable energy sources and are scheduled to begin operation in fiscal 2019. Furthermore, the Takehara Thermal Power Plant Unit New No. 1 (replacement) and Kashima Power projects in Japan and the Central Java Project overseas, all cutting-edge high-efficiency coalfired thermal power projects, are on track to begin operations in fiscal 2020. These projects represent steady progress in efforts to form an asset portfolio that will serve as a foundation for future growth. In terms of technological development, we are working toward the decarbonization of fossil fuel energy sources and advancing initiatives aimed at achieving zero emissions by the 2050s. These include efforts related to commercializing oxygen-blown integrated coal gasification combined cycle (IGCC) technology, carbon capture and storage (Osaki CoolGen), and hydrogen (a brown coal hydrogen demonstration project). In the years to come, we will ensure the ongoing growth of the J-POWER Group through the discovery and promotion of even more superior projects in Japan and abroad.
I believe that in times of major change, such as those we are in now, the J-POWER Group's unique strengths and heritage will allow it to flexibly adapt, contribute to society, and maintain a strong presence.
We will continue to do our utmost under our Corporate Philosophy: "We will meet people's needs for energy without fail, and play our part for the sustainable development of Japan and the rest of the world."
We are grateful as always for your continued support and patronage.


Toshifumi Watanabe
President
September 2018